<![if !vml]>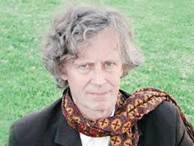 <![endif]>
prof.Derrik De Kerckhove of McLuhan Istitut of Canada
Welcome!
Since 1987, "Radiomagazine" was a special weekly program about media, broadcast on short wave by Adventist World Radio Europe and conduct by Dario Villani, italian press journalist.
Since december 2002, finished the agreement with AWR, radiomagazine, become a on line news paper and continue the same program with the same professional style.
Dario Villani was contributors for various broadcasting in the world. In the 1988, for Italian Section of HCJB La Voz de los Andes from Quito Equador. But his first contributions was for  a small corner in Italian language, transmit for a few month in the Spanish Section of Radio Nederland, with "Espacio Dxista" produced by Alfonso Montealegre. In the same period, in 1987, him started his contributions from Radio Portugal (RDP) Italian Program, and Deutschlandfunk of Cologne. For this last radio, him start his first steps like a very journalist, with many topics from Naples. Tourism of germans peoples  in Capri, Ischia and Positano with interviews to big names of german culture as Hans Georg Gadamer in Istituto Italiano per gli Studi Filosofici  of Gerardo Marotta, and still the big names of classic music of Germany in San Carlo Theatre as Wolfgang Sawallisch, or Wilhelm Kempff in Positano, and other and other topics. In 1994, him go to work in Italian Section of Radio Korea (KBS) in Seoul. In this time, him continue his contribution for AWR Italian Section, to record his feautures in the Seoul studios of AWR Voice of Profecy. And again in Italy in 1994,  for AWR (until 2002)  and DLF/DW until (1997).
Dario Villani is a very enthusiast of radio, until 1987 printed in Naples, with a local group of friends, a very famous bulletin for short wave listeners, called "Italian DX News", that was one of first club of CO.RAD. Coordinamento Radioascolto.
In the various pages of this web site, him show the situation about the italian association of listeners. But also the situation about italian media, with the new Media Law of "Gasparri" Minister. A lot of famous names of politics mans and media specialist peoples partecipeted in his interviews.
For agevolete the down load, there are more distinct files, that youc can listen in one only playlist.
The "radiomagazine" weekly trasmission, it is also broadcast from FM and Medium Wave, from Radio Studio X in Toscana, 1584 kHz, evry Friday night at 00,00 italian  time and Sunday at 22,00; for other informations plaese visit Radio Studio X web site.
If you want other informations about us, for rebroadcasting our audioclips or for advertising,  you can write:
Hot line +39 3402138130
P.S.Sorry for my english!
New! Listen now         SPECIAL ENGLISH
| | |
| --- | --- |
| Topics | MP3 at 48 kbp/mono |
| Short interview with Derrik De Kerchove of McLuhan Institut of Toronto Canada and Federico II University of Naples Part 1 | |
| Part 2 | |