MISSION SUCCESS FOR TRANSFER OF SERVICES<![if !vml]>

<![endif]>
TO EUTELSAT's W3A SATELLITE FROM W3
Eutelsat's engineering excellence ensures smooth satellite switch
Paris 17 May 2004,
Eutelsat announced today that its new W3A satellite was successfully brought into
full commercial service at 7 degrees East in the nights of May 15 to 16 and May 16 to
17 with the seamless transfer of all traffic to the new satellite from W3.
In addition to assuming all services formerly delivered by W3, Eutelsat's new satellite
substantially increases the business potential at one of Eutelsat's most longstanding
orbital locations by providing more capacity and extending coverage beyond Europe,
the Middle East and North Africa to almost the entire African continent. In addition to
Ku-band capacity, Eutelsat has deployed Ka-band frequencies and Skyplex on-board
processing on W3A that in particular opens opportunities for broadband services
between Europe and Africa such as voice over IP and Internet access.
Following launch on 16 March, W3A was positioned in geostationary orbit by Eutelsat
in collaboration with prime contractor EADS Astrium and Telespazio. The tests of the
spacecraft bus, the first in the Eurostar E3000 series, were completed on 31 March
and the payload was subsequently tested and performance thoroughly verified during
April on a test location. On 3 May, the satellite was triggered to begin a slow move
towards its definitive operational position at 7 degrees East. It arrived on station on
14 May and was prepared for the transfer procedures.
The switch of services followed a meticulously planned sequence of events over two
nights, with corporate clients such as Reuters and Hughes Network Systems being
the first to move in the night of 16 May. In the night of 17 May the European
Broadcasting Union's Eurovision network, Digiturk's pay-TV platform, RAI, TV Poland
and other video clients were transferred. The majority of the switch manoeuvres
lasted fewer than 30 seconds with the longest lasting fewer than 90 seconds.
A number of clients commented on the switch of service from W3 and the full entry
into service of Eutelsat's new satellite. They included Jean Réveillon, Secretary
General of the European Broadcasting Union, the world's leading broadcasting
association: "We are thrilled to have the benefits of this new satellite for upcoming
events such as the 60th anniversary of the D-Day landings, the UEFA Euro 2004
football and the Athens Olympics. The power and coverage of W3A will be a real
asset to the Eurovision network."<![if !vml]>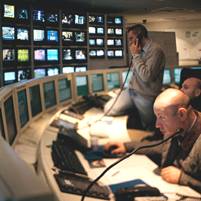 <![endif]>
Mike Darcy, President of Hughes Network Systems Europe added: "Hughes Network
Systems has thousands of terminals pointed towards 7 degrees East that serve the
critical communications requirements of our clients in industry, retail, energy and
government sectors. Eutelsat worked closely with us to prepare a seamless switch of
all our networks onto W3A and we are delighted to be benefiting from the
performance and reach of Europe's newest satellite."
Mark Grainge, Global Communications Director for Reuters commented: "Service
availability is a critical factor for our customers. Our clients select our services to
meet their real-time business and financial information requirements on this basis.
We were extremely satisfied with how Eutelsat coordinated the transfer without any
disruption to data delivery. It was particularly important that W3A was co-located with
W3, before the transfer, and I would like to thank Eutelsat for their efforts in making
this transition easy for us and the 10,000 clients in 50 countries that we serve."
Eutelsat's W3 satellite, which went into service exactly five years ago, will start its
drift later this month to 48 degrees East where it will continue its full commercial
mission for clients with requirements in Europe, the Middle East, North Africa and
central Asia.
About Eutelsat
With capacity commercialised on satellites that provide coverage from the Americas
to Far East Asia, Eutelsat is one of the world's leading satellite operators. This
satellite infrastructure gives the company the flexibility to offer direct-to-home
broadcasting, video distribution and contribution services, corporate network
solutions, positioning and communications services for mobile users and a portfolio of
IP applications which include broadband Internet access and Internet backbone
connections. Eutelsat has developed a range of turnkey broadband products (DSTAR,
D-SAT, OPENSKYä) for local communities, SMEs, SoHos and consumers
beyond ADSL access. It has also set up a subsidiary called Skylogic Italia to market
and operate broadband services through its multimedia platform in Turin (Italy).
Eutelsat's satellites broadcast more than 1,400 television and 700 radio stations to an
audience of 110 million cable and satellite homes.